Top dog writes about his thrilling drug-busting adventures.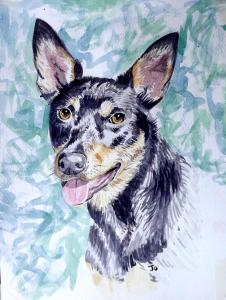 Rick is the crime-busting dog at Fortune International Security.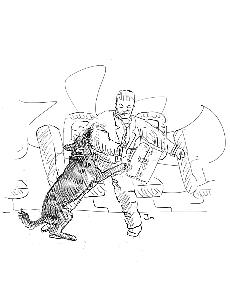 Rick attacks a dangerous drug boss. (Line drawing by Joe Hanrahan)
Thrilling tales of a drug-busting Australian Kelpie will raise cash for RSPCA Australia.
This crime-busting outfit, run by tough ex US Marines, is on the trail of criminal drug barons…"
— Adrian Wardle
SOMERS, VICTORIA, AUSTRALIA, November 3, 2017 /EINPresswire.com/ — FOR IMMEDIATE RELEASE – Dog's new book will raise funds for animal charity…
IT'S NOT EVERY DAY that you can read a crime thriller written by a dog. But then Rick Dogg has a special talent – he can type on a laptop – this in addition to his super senses of hearing, sight and smell.
He's literally the top dog at Fortune International Security (FIS). This crime-busting outfit, run by tough ex US Marines, is on the trail of criminal drug barons and their secret opium farms and hidden heroin factories. These concealed drug-making installations are on a global scale and Rick and his mates are going to put them out of action.
SECRET OPERATIONS
Their covert operations are secretly commissioned by the governments of Australia, Canada, the U.S.A. and others who are trying to get to grips with a growing drug problem in each of their countries.
And when his boss discovers that these criminals have managed to infiltrate the F.I.S. HQ in the States, Rick is flown out to identify them. The boss, himself a former senior US Marines commander, decides that they should locate their HQ in Australia instead.
The true author of 'ALMOST HUMAN' is a research chemist who really knows his stuff. David Finn is a man of some international distinction. It is he who developed brake linings and brake blocks which were made without asbestos. These friction materials were manufactured in Australia and exported throughout the world.
Their widespread use has prevented an incalculable number of people from dying from the lung disease asbestosis, perhaps contracted in confined places like the London Underground.
David, now in his eighties, lives in a retirement village on the outskirts of Melbourne. Sue Finn, one of his three daughters, is looking after him and his wife, Jayne.
A SUDDEN STOP
She told us that her dad has always loved dogs: "His favourite, and the one to which his book is dedicated, was Ben. Ben was actually my father-in-law's dog and when he was in need of a new home I knew dad would take him on (Ben that is … not my father-in-law!).
"Dad used to take Ben in the car with him when he was out testing his brake pads. That dog very quickly learned to 'hang on' when he heard dad yell 'BRACE!' to warn him of a sudden stop. I also share my dad's love of dogs and have had a few in my life. My current two, Paddy and Poppy, are both rescue dogs and have plenty of my favourite breed, the Australian Kelpie, in their make-up. Poppy being just a little more so than Paddy!
"Our animal rescue organisations need support to continue the outstanding work they do. For this reason, one dollar from every copy of ALMOST HUMAN sold will be donated to RSPCA Australia. By doing this, the dog lovers purchasing my dad's book will not only be getting a quirky Christmas read but will be lending their support to the many dogs out there in need of help."
(ENDS – 494 words)
FOR MORE INFORMATION: Please visit our website at www.somers-press.com.au or call…
Adrian Wardle, publisher, on (0)3 8400 4244 (select option four) or his mobile via option two or…
e-mail adrian.wardle@somers-press.com.au
Book data from Books in Print – PUBLICATION DATE: 10th NOVEMBER, 2017.
'ALMOST HUMAN by Rick Dogg' – B-FORMAT PAPERBACK – ISBN 978-0-6481913-0-8
464 Pages – Illustrated – 198 x 129 mm – 489 grams – USD $11.95 + Airmail P & Pkg.
CHOOSE FROM THESE IMAGES & PHOTOGRAPHS:
1. The front cover of 'Almost Human by Rick Dogg'.
2. Pack shot of 'Almost Human by Rick Dogg' in 3D.
3. Portrait of Rick Dogg by Joe Hanrahan.
4. Rick discovers he can use a laptop. (Line drawing by Joe Hanrahan)
5. Sue Finn's Australian Kelpies – Paddy (L) and Poppy.
6. Headshot of David Finn, the true author of 'Almost Human by Rick Dogg'.
Simply click on the thumbnails below or HERE http://jmp.sh/6y6xOyR to access the folder from which you can copy, print or download our larger, quality images. Thank you.
Corporate Supporter (logo) RSPCA Australia.
Supplier Member (logo) Australian Booksellers Association.
'ALMOST HUMAN by Rick Dogg' will soon be available as an E-book from AER.IO (logo)
Adrian Wardle
THE SOMERS PRESS
+61 3 8400 4244
email us here

Source: EIN Presswire